Venus Viva Laser Skin Resurfacing and Skin Tightening Procedure
Dr. DeBias and his staff have performed over 500 treatments utilizing the innovative radio-frequency device, Venus Viva, with high patient satisfaction. The Institute serves patients in the Philadelphia, PA area, and has offices in both Doylestown / Bucks County and King of Prussia / Montgomery County.
Introductory Cost is $395
SAFE, QUICK AND EFFECTIVE!
The Venus Viva laser skin resurfacing and skin tightening treatment is one of the newest FDA approved fractional radio frequency devices.  It is designed to dramatically improve the 3 T's of your face and neck skin – Texture, Tone, and Tightness. It enhances the overall quality of the skin by combining Nano-Fractional Radio Frequency™ (RF) and the SmartScan™ technology to penetrate deeper and hit on multiple areas in the same session. This procedure stimulates the production of collagen.

Benefits
Reduce visible pores
Improve acne scarring
Reduces the appearance of fine lines, deep folds, and wrinkles
Even out textural irregularities and rosacea
Smooth and even out skin tone and texture
Tighten the lax skin around the neck, jowls and décolleté
Venus Viva™ is the only non-invasive RF system that allows your physician to customize the intensity of the treatment to your needs and your personal preferences. With this revolutionary technology, the Venus Viva skin rejuvenation procedure offers immediate, long-lasting results in just one 10-minute treatment.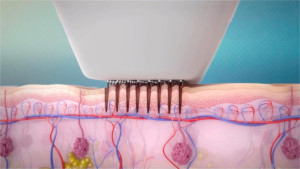 Is there Downtime?
It is well tolerated by patients and there is minimal downtime required – Just one day of redness occurring after the treatment.
A series of treatments is recommended to achieve the best results.
The goal of this procedure is to renew the skin you have and help to maintain your skin, despite the "downward spiral" effects of aging. Call us today to discuss what skin tightening treatments can do for your skin. 
Don't want to have downtime? Learn about Venus Freeze.
Are the treatments safe?
YES! Radio Frequency has been used in medicine for many years and is a proven, safe, and effective technology. Dr. DeBias will review your medical history and your aesthetic goals to see if the Venus Viva treatment is right for you.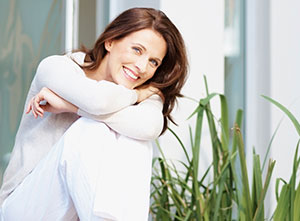 Venus Viva for Acne Scars
Venus Viva's primary focus is on tightening loose skin, reducing wrinkles, and, overall, refreshing and renewing your skin. It can treat acne scars by replenishing the skin; however, other acne treatments may yield better results in addressing unwanted acne scars. Visit our acne treatments page to learn more about the best treatments for reducing the appearance of unwanted acne scars.
---
Other Laser Skin Resurfacing Treatments
Experience dramatic results in the texture, tone and tightness of your face and neck skin with ActiveFX.
Reach deeper dermal layers of your skin with DeepFX.
---
Set up a free consultation at The Institute for Laser and Aesthetic Medicine and Dr. DeBias will work with you to determine the best approach to attaining the optimal results you are trying to achieve. One visit and you will be on your way to a more refreshed look!