Vaser Shape Cellulite Treatment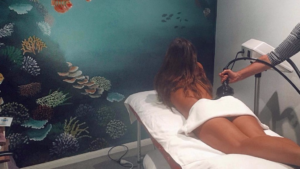 The Institute for Laser and Aesthetic Medicine offers the Vaser Shape Cellulite Reduction Treatment. We serve patients in the Philadelphia area and have locations in both Doylestown / Bucks County and King of Prussia / Montgomery County.
What is Vaser Shape?
Vaser Shape is a non-invasive ultrasound and massage therapy procedure that smooths, firms, and shapes the body. Vaser Shape temporarily reduces the appearance of cellulite and increases local blood circulation and lymphatic drainage.
How it Works
The treatment uses ultrasound waves to warm the targeted problem area and treat the underlying fatty tissue. It then uses zonal lymphatic massage to drain away excess toxins and lipids for removal from the body.
How long is the treatment period?
Unlike other non-invasive body shaping procedures, Vaser Shape is a comfortable treatment that only requires 45 minutes to an hour per session.
Benefits of Vaser Shape:
Reduce the appearance of cellulite.
Improve local blood circulation.
What Areas Can Vaser Shape Target?
Abdomen
Back
Hips
Thighs
Arms
---
About Dr. Glenn DeBias
Dr. DeBias is a board certified physician with over 18 years of aesthetic medicine experience.
He is in the top 1% of cosmetic injectors in the United States based on status and experience.
Dr. DeBias is internationally recognized for developing the first fractional CO2 laser face procedure known as ActiveFX.
He is an expert in the use of lasers and energy-based devices for aesthetic applications.
The Institute for Laser and Aesthetic Medicine owns over 60 lasers and energy-based devices and has performed over 250,000 aesthetic procedures to date.
Dr. DeBias' depth of knowledge, experience, and state-of-the-art technology optimizes patient results and outcomes.
He is one of the most experienced aesthetic physicians in the Tri-State Area and is consistently voted the top physician for laser and aesthetic medicine in Bucks County.
Set up your free Vaser Shape consultation today!