Skin Resurfacing & Skin Tightening Treatments to Optimize Your Skin Health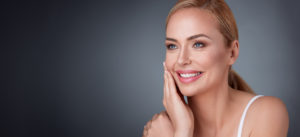 The Institute for Laser and Aesthetic Medicine offers the following skin resurfacing and skin tightening services:
Spectra Laser Peels
Rejuvelase
---
About Dr. DeBias and The Institute for Laser and Aesthetic Medicine:
In 2004, Dr. DeBias developed the first fractional CO2 laser face treatment, ActiveFX, for which he is internationally recognized.
Dr. DeBias is the leader nationally in performing fractional CO2 to treat the three T's – texture, tone, and tightening of the skin – which carries the highest satisfaction rating of all his aesthetic procedures – Over 20,000 treatments performed to date.
Dr. DeBias and his staff have performed over 250,000 aesthetic procedures to date, including thousands of procedures utilizing the newest radio-frequency devices, Venus Freeze and Venus Viva, with high patient satisfaction.
Dr. DeBias is consistently voted one of the best laser and aesthetic medicine physicians in the Tri-State Area.
Today, the idea is to perform little or no invasiveness to achieve a more natural result and to perform these procedures intermittently as needed to keep pace with the patient's aging process. Dr. Glenn DeBias, founder and medical director of The Institute for Laser and Aesthetic Medicine in Doylestown, says: "Rather than attempt to make someone look 20 years younger than they are with unattainable results and unnatural technique, the goal today is to help someone look refreshed for their age, giving them their best natural look."
---
Set up a free consultation at The Institute for Laser and Aesthetic Medicine and Dr. DeBias will work with you to determine the best approach to attaining the optimal results you are trying to achieve. One visit and you will be on your way to improved skin health and a more refreshed appearance!