Sculptra® Cosmetic Injections
Sculptra Aesthetic is a type of cosmetic injectable made from poly-L-lactic acid, which helps to replace lost collagen. It helps correct shallow to deep facial wrinkles and folds that appear with aging by replacing lost collagen. The main ingredient is a biocompatible, biodegradable synthetic material that has been used by physicians for decades. Sculptra Aesthetic is used to correct shallow to deep facial wrinkles and folds which are treated with the appropriate injection technique.
Sculptra Aesthetic is suitable for:
Deep folds between the nose and the mouth (nasolabial folds) also called smile lines
The lines framing your mouth (marionette lines)
Chin wrinkles
On average, three injection sessions are needed over a period of a few months. The number of injection sessions and the number of injections per session vary from person to person. The results are gradual and should last a few years.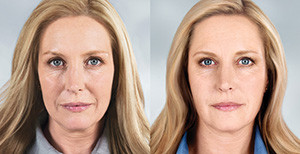 REQUEST A FREE SCULPTRA CONSULTATION
Sculptra Specials
View our Specials on Sculptra.
More information about Sculptra® can be found at the manufacturer's website.
Today, the idea is to perform little or no invasiveness to achieve a more natural result and to perform these procedures intermittently as needed to keep pace with the patient's aging process. Dr. Glenn DeBias, founder and medical director of The Institute for Laser and Aesthetic Medicine in Doylestown, says: "Rather than attempt to make someone look 20 years younger than they are with unattainable results and unnatural technique, the goal today is to help someone look refreshed for their age, giving them their best natural look."
Dr. DeBias is consistently voted one of the best laser and aesthetic medicine physicians in the Tri-State Area. He is also in the top 1% of cosmetic injectors in the country based on experience and status. He has performed 250,000 aesthetic procedures to date.