SculpSure® Body Sculpting | Laser Fat Reduction Treatment
The Institute is pleased to introduce, SculpSure, the 1st laser fat treatment to reduce pockets of fat safely and without surgery or downtime. There has been over a 95% satisfaction rate from their patients and over 500 procedures administered to date. The Institute for Laser and Aesthetic Medicine (ILAMED) is the most experienced Laser Center in the Tri-County performing SculpSure Body Sculpting. They serve patients in the Philadelphia, PA area and have offices in both Doylestown / Bucks County and King of Prussia / Montgomery County.
LASER FAT FAST WITH NO DOWNTIME

Promotion Package ~ $500 Off a full 4-applicator set

Benefits
Proven Safety
Easily tolerated by patients
Over 95% satisfaction rate
Fat destruction is permanent
Less expensive than the alternative cooling treatment! (Our Promotion Package: $500 off a four applicator treatment)
Dr. DeBias is one of the top physicians in the region performing body contouring and skin tightening procedures
Impressive results – both fat reduction and skin tightening
Short 25-minute procedure
No downtime
Results appear after four weeks, optimal results within three to six months
Works on all skin types
SculpSure is rapidly becoming the go-to procedure for noninvasive body sculpting and fat reduction!
Are your body shapes and curves as desirable as they used to be? Do you feel that your past desirable curves have given way to increasing fat bulges and a less attractive body shape? You watch your diet and exercise regularly, but there is still that stubborn fat that won't go away.
Up until recently, the only option for non-invasive fat reduction was a freezing method which was uncomfortable, time-consuming and less impressive with results. In fact, due to the hours of treatment necessary for any results, many offices were applying two devices at one time to reduce treatment time even though this was not FDA cleared to do.
THE ICE AGE IS OVER! Finally, we have a game changing device that is SAFE, requires minimal treatment time (25 minutes), and is comfortable with impressive results. SculpSure treatment is now the GO-TO procedure for noninvasive body sculpting and fat reduction and
is heating up the competition!
What is SculpSure?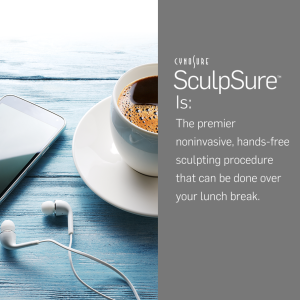 SculpSure is the world's first FDA-cleared laser treatment for non-invasive reduction of fat of the flanks and abdomen. In one comfortable 25-minute treatment period, this gentle laser SculpSure treatment not only reduces fat cells but encourages the stimulation of collagen resulting in overall skin tightening of the area treated.
If you want to lose belly fat or other specific areas of fat of the abdomen or flank regions, the SculpSure treatment may be your best option for fast, effective and permanent fat destruction.
Dr. DeBias, having decades of experience in aesthetic medicine and the owner of over 65 laser and light sources, is one of the first physicians in the Tri-State Area to offer this revolutionary new device for laser body sculpting.
Before and After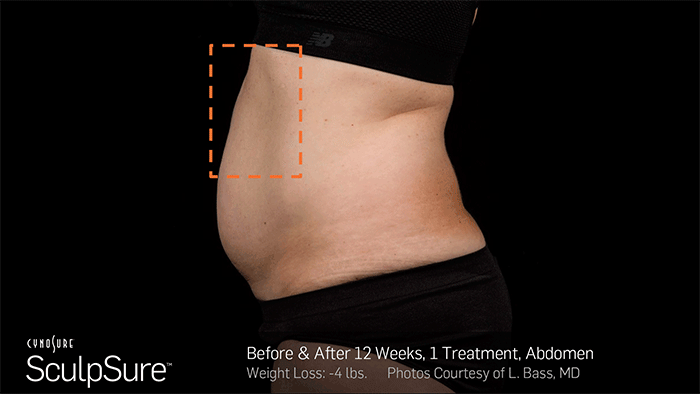 Individual results may vary depending on a number of factors. Also note that SculpSure is not about losing pounds, but losing fat volume.
Take advantage of the latest laser body sculpting technology to reduce pockets of fat and to experience a more contoured look.
How it works
Testimonials
Read what exclusive patients of The Institute for Laser and Aesthetic Medicine have to say about SculpSure Body Sculpting.
Results
There has been high satisfaction from SculpSure patients at The Institute. The treatment is safe and has provided patients with a natural look. Additionally, this treatment allows you to resume normal activities immediately after your procedure, whether it be going back to work or continuing your exercise regimen; there is no downtime. Fat cells are permanently destroyed.  In addition, you can expect some skin tightening to your treated areas. You can even repeat your procedure four weeks later for further enhancement.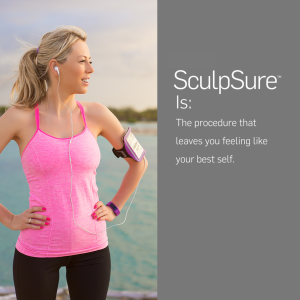 ---
Other Body Sculpting Treatments
Target a larger area of fat with Vanquish ME.
CoolSculpting
CoolSculpting tempts to eliminate stubborn fat by freezing it.  It can take up to 2 hours and is uncomfortable for most patients. CoolSculpting used to be a dominant non-invasive fat-reduction procedure, but now SculpSure has taken over.
Smartlipo is a minimally invasive laser-assisted lipolysis procedure that removes unwanted fat from targeted areas while promoting tissue coagulation and skin tightening. It requires anesthesia and downtime. In addition, Smartlipo requires more time to be performed, and yields a higher risk.
---
Learn more about SculpSure which is made by Cynosure, or visit the SculpSure site.
---
Set up a free consultation at The Institute for Laser and Aesthetic Medicine and Dr. DeBias will work with you to determine the best approach to help you reach your body sculpting objectives!