INFINI-Microneedling Skin Rejuvenation | Face and Neck Treatment
The Institute now offers the INFINI-microneedling procedure to help improve your skin health for your age. This treatment reduces the appearance of fine lines and wrinkles, sagging skin, scars and acne scarring. The overall result is firmer, thicker, and more rejuvenated skin.

Dr. DeBias and his exceptionally trained staff have a depth of knowledge and experience using laser and energy-based devices, including RF (radio frequency) energy and other light-based devices. The Institute has successfully performed thousands of treatments utilizing RF systems helping them to deliver exceptional outcomes with the microneedling procedure.

INFINI-microneedling is a safe, 10-minute face and neck procedure that effectively diminishes the appearance of wrinkles while stimulating new collagen and elastin fibers. Speak with Dr. DeBias to determine the best skin care treatment plan that will match your needs and expectations.
ACHIEVE THE OPTIMAL APPEARANCE OF SKIN HEALTH FOR YOUR AGE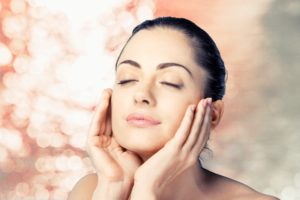 Introductory offer for face and neck ~ $495

Benefits
Reduce the appearance of fine lines and wrinkles
Tone and textural improvements
Reduces the appearance of scars and acne scarring
Overall skin refreshment
Firmer and thicker skin
Improve collagen and elasticity
Works on face and neck
Safe and effective
No downtime
Works on all skin types
How it Works
INFINI uses gold-plated microneedles to deliver RF energy directly to the dermis resulting in firmer, thicker and more rejuvenated skin to improve skin health. This unique and innovative technology protects the top layer of the skin (epidermis) by using silicon coated needles, which allows only a controlled amount of energy to be transferred into the dermis. This treatment works on all skin types, even tanned skin. When the energy is delivered, it stimulates the natural growth of collagen and elastin fibers.
What to Expect
You will feel the sensation of microneedle pricks. Topical anesthetic cream is used to optimize patient comfort.
Frequently Asked Questions (FAQ)
How long does this treatment take to perform?
The INFINI-microneedling procedure takes about 10 minutes to perform.
Is there downtime?
There may be an initial redness and swelling. In a few patients, there may be persistent swelling that will subside after about 24 hours. There are no concerns with the sun following your treatment.
How long before I see results?
Usually, within the first week, your skin becomes firmer and thicker. This sensation continues for about 6 months due to collagen and elastin fiber production. Individual results may vary depending on a number of factors.
How long will my results last?
The effects can last for up to three years following your treatment.
How many treatments will I need?
This procedure will optimize your skin health but maintenance is required to maintain optimal appearance and skin health. Setting up a consultation with Dr. DeBias will help determine a treatment plan that will meet your goals and expectations.
---
Dr. DeBias has extensive knowledge and experience with RF devices to help optimize patients skin health. Come see why his results are a shoulder above the rest!