Botox® Injections Treatment

Dr. DeBias is ranked in the top 1% of cosmetic injectors in the country based on experience and status. We serve patients in the Philadelphia area and have locations in both Doylestown / Bucks County and King of Prussia / Montgomery County.

What is Botox?
BOTOX® Cosmetic is a non-surgical treatment that can temporarily soften moderate to severe frown lines between the brows, crows feet, and forehead creases. The Food and Drug Administration (FDA) is one of the many administrations that have approved Botox injections for the temporary treatment of moderate to severe frown lines between the brows in people ages 18 to 65.
How long does it take for Botox to work?
One 10-minute treatment- a few tiny Botox injections – and within days there's a noticeable improvement in those persistent lines. A few days after the injection you will see progressive softening of skin animation lines with maximum benefit after 2 weeks. Results may vary.
How long does Botox last?
Most patients experience 3 to 4 months of optimal outcomes after their treatment.
A million people have been treated with FDA-approved BOTOX® Cosmetic. There's only one BOTOX® Cosmetic.
Botox Before and After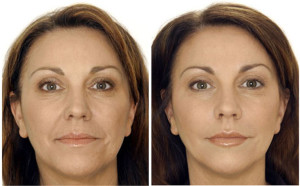 *Individual results may vary depending on a number of factors.
Botox Cost
First time introductory-$9 per unit. $180 is the cost for 20 units.
Botox Side Effects
Understanding the anatomy of the facial muscles is an important factor that an experienced physician knows and applies. In addition, starting out with a smaller dose and adjusting the dosage to get the desired result can reduce potential side effects.  Talking to your doctor will help him or her to better understand your physiology so he or she can apply the best possible results and outcomes.
Learn more about Botox injections: http://www.rxlist.com/botox-side-effects-drug-center.htm
---
About Dr. DeBias and The Institute for Laser and Aesthetic Medicine:
Dr. DeBias is consistently voted one of the best laser and aesthetic medicine physicians in the Tri-State Area and is ranked in the top 1% of cosmetic injectors in the country by experience and status.
The office has performed more than 250,000 aesthetic procedures to date.
Dr. DeBias has performed over 150,000 injections and he is the inventor of the first fractional CO2 procedure (ActiveFX), for which is he internationally recognized.
He has performed more than 19,000 fractional CO2 procedures to date, qualifying him as the most experienced CO2 laser practitioner in the United States.
At The Institute for Laser and Aesthetic Medicine, Dr. DeBias and his staff help patients look their best by counteracting the "downward spiral" effects of aging. The fundamental goal is to enhance your look in a natural, noninvasive way. In order to attain this goal, Dr. DeBias and The Institute combine both the use of the most highly innovative technology AND a discernible artistic eye.
---
For limited time offers, please visit our specials page!
In the case of experiencing unsatisfactory results, making the decision to change injectors has proven, by patients, to improve overall outcomes.
---
Before & After Photos
BOTOX® Cosmetic
BOTOX® Cosmetic for Severe Sweating
Allergan