Active FX Before and After Photos
Dr. Glenn DeBias is internationally recognized for developing the 1st fractional CO2 laser skin resurfacing treatment (ActiveFX) and has performed over 20,000 of these CO2 laser procedures; he is considered one of the most experienced physician in the country performing fractional CO2.
View a few of our Active FX Before and After Photos to see the improvement this treatment can have on your appearance. Results will continue to show improvement for up to six months after the procedure. If skin is properly taken care of this can last for several years. Individual results may vary depending on a number of factors.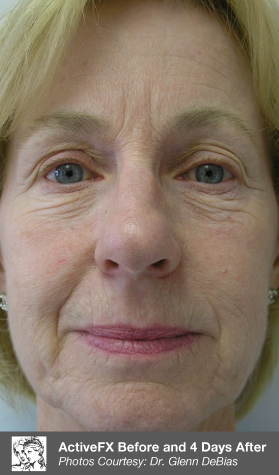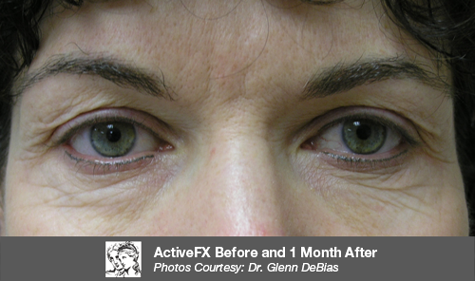 ---
Active FX  considered the gold standard CO2 laser procedure for face and neck skin tightening and resurfacing.
It is a 7-10-minute procedure performed by Dr. DeBias utilizing a topical anesthetic and air cooling device. It is well tolerated with 3 and a ½ days of transformation and recovery.
The most dramatic results involve the 3 T's – Texture, Tone, and Tightness of the facial and neck skin. The CO2 laser has a 25-year track record of delivering dramatic results and refreshment.
ActiveFX offers a safe and natural result helping people look the best they can for their age.
Reviews from real patients of The Institute for Laser and Aesthetic Medicine.
Fractional Co2 Recovery and Transformation
The epidermis (outer layer of skin) sloughs off and the new epidermis is smoother, tighter, and more even in skin tone. The dermis (deeper layer of skin) produces more collagen leading to thicker, stronger, and firmer skin support. With fractional laser treatment, only a fraction of the skin's surface is treated by the laser, leaving small "bridges" of untouched skin. This technique makes the healing process much faster and enables you to get back to normal activities sooner.
The ActiveFX treatment typically lasts less than 10 minutes. However, an hour should be allotted to permit time for pre-treatment pictures, anesthetic cream application, and review of post-procedure instructions.
Patients experience warmth, similar to sunburn after treatment. During this time, a gentle washing and moisturizing regimen is recommended. Skin will then flake off within two days. After four to seven days, make-up can typically be applied. Pinkness is often gone after about a week.
https://www.realself.com/active-fx/before-and-after-photos#
---
We serve patients in the Philadelphia area. We have location in both Doylestown and King of Prussia.
Set up a free consultation at The Institute for Laser and Aesthetic Medicine and Dr. DeBias will work with you to determine the best approach to attain the optimal results you are trying to achieve. One visit and you will be on your way to a more refreshed look! 
---