Venus Freeze No Downtime Skin Tightening Treatment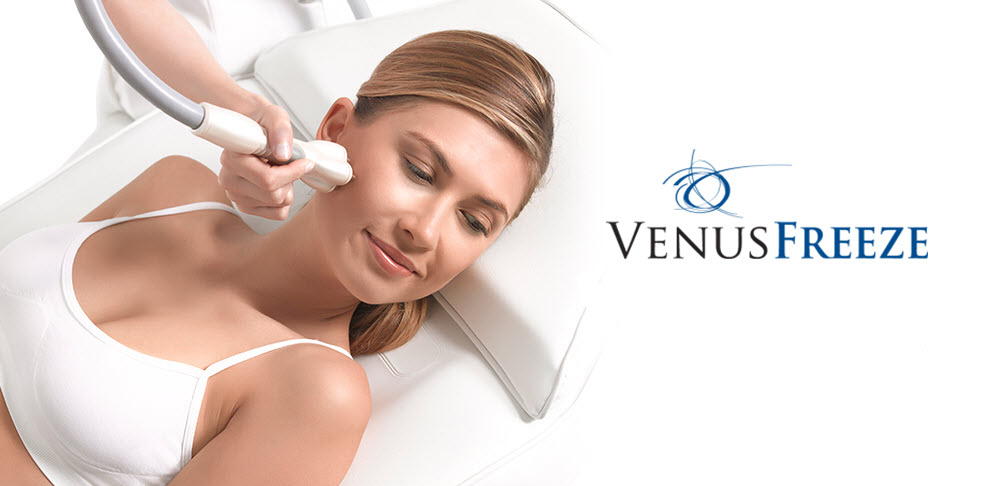 Dr. DeBias and his staff have performed over 1,500 procedures utilizing the newest radio-frequency device Venus Freeze with high patient satisfaction. We serve patients in the Philadelphia, PA area and have locations in both Doylestown / Bucks County and King of Prussia / Montgomery County.
What is Venus Freeze?
Venus Freeze is a thermal skin tightening procedure that is non-invasive and pain-free. It helps in wrinkle reduction and skin tightening for the face, neck, and other body regions. This treatment utilizes radio frequency to stimulate the generation of collagen; this new production of collagen (neocollagenesis) refreshes and renews the appearance of your skin. Venus Freeze is an exciting innovation that offers our patients a comfortable, safe, and relaxing way to tighten their skin with no downtime. During the procedure heat is applied to the deepest levels of the skin (the dermis), and perceived as an injury, causing the body to respond through repair. This helps to subtly build collagen, thickening and tightening the skin. With each treatment, you can counteract the effects of aging. No pain or discomfort is experienced during this procedure.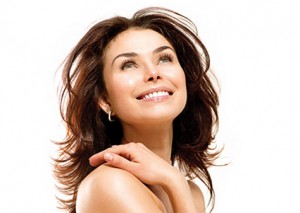 Benefits of Venus Freeze:

Skin will become firmer and tighter
Refreshes and renews your skin
Reduces the appearance of wrinkles
Improvement of jaw line definition
How it Works
Venus Freeze utilizes multi-polar radio frequency and Pulsed Magnetic fields which produce a soothing and therapeutic heat matrix over the skin. A thermal reaction in the tissue stimulates the body's natural healing response. This response causes new collagen to form along with the production of new elastin fibers. Overall, the skin becomes tighter, wrinkles soften, and cellulite is reduced.
What to Expect

This thermal skin tightening treatment is non-invasive and painless. The procedure takes about 15 minutes and there is no downtime! Therefore, can resume normal activities right after your treatment.


SAFE, QUICK, EFFECTIVE AND COMFORTABLE!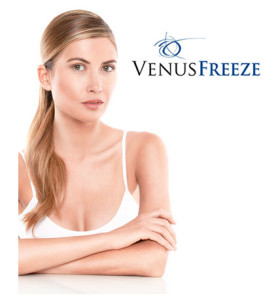 Venus Freeze treatments can be done alone or in a series. A maintenance program is suggested after the initial treatment to help maintain long-term results.
Dr. DeBias is one of the top users of the Venus Freeze treatment in the Tri-State area, and he and his staff have performed over 1,500 treatments to date. The goal of this procedure is to renew the skin you have and help to maintain that skin, despite the process of aging. Call us today to discuss what Venus Freeze treatments can do for your face and neck.
Venus Freeze Cost
---
Watch Our Venus Freeze Video!
---
Venus Freeze Side Effects
Being mindful of temperature is what makes this procedure safe and less prone to side effects. When performing the noninvasive Venus treatments, it is important to reach the target temperatures within the deeper skin tissues in a safe and reliable manner. Temperatures too high can lead to undesirable side effects including localized nodules, internal scarring and surface irregularities. Because of these concerns, the Venus Freeze treatment provides superior safety profiles due to the multi-polar technology ensuring consistent and even temperature distribution within the target tissues.
Are the treatments safe? 
YES! Radio Frequency has been used in medicine for many years and is a proven, safe and effective technology. Your treatment provider will review your medical history and your aesthetic goals to see if the Venus Freeze treatment is right for you.
Venus Freeze is an effective procedure if you are looking to refresh and renew your skin. The firming and tightening of the skin is what makes this a revolutionary treatment. It is highly effective, it is quick-acting, and most importantly, it is SAFE! Venus Freeze treatments can be done alone or in a series. A maintenance program is suggested after the initial treatment to help maintain long-term results. Consult with your doctor to determine if you are a good candidate for this procedure.
---
Dr. DeBias and his staff offer an array of innovative aesthetic procedures for the face and body. These include everything from ActiveFX fractional laser skin resurfacing and body-contouring services to a lineup of cosmetic injectables, all to help patients maintain their hold on health and beauty – safely, naturally, and effectively.
Learn about Venus Viva, which adds a resurfacing component!
---
The Institute for Laser and Aesthetic Medicine serves patients in the Philadelphia area. We have locations in Doylestown and King of Prussia.
Set up a free consultation at The Institute for Laser and Aesthetic Medicine and Dr. DeBias will work with you to determine the best approach to attaining the optimal results you are trying to achieve. One visit and you will be on your way to a more refreshed look!