Active FX Fractional CO2 Laser Skin Resurfacing Treatment


In 2004, Dr. DeBias developed the first ever fractional CO2 laser skin resurfacing protocol, dubbed worldwide as Active FXTM. Dr. DeBias has performed over 19,000 CO2 laser treatments and he is considered the most experienced physician in the country performing fractional CO2. 
We serve patients in the Philadelphia area and have locations in both Doylestown / Bucks County and King of Prussia / Montgomery County.
CO2 Laser Treatment
Active FX is the GOLD STANDARD CO2 laser treatment for face and neck skin tightening and resurfacing. It is a 7-10-minute procedure performed by Dr. DeBias utilizing a topical anesthetic and air cooling device. It is well tolerated with 3 and ½ days of transformation and recovery. The most dramatic results involve the 3 T's – Texture, Tone, and Tightness of the facial and neck skin. The CO2 laser has a 25-year track record of delivering dramatic results and refreshment. Active FX offers a safe and natural result helping people look the best they can for their age.

How it works
The epidermis (outer layer of skin) sloughs off and, as a result, the new epidermis is smoother, tighter, and more even in skin tone. Furthermore, the dermis (deeper layer of skin) produces more collagen leading to thicker, stronger, and firmer skin support. With fractional CO2 laser treatment, only a fraction of the skin's surface is treated by the laser, leaving small "bridges" of untouched skin. This technique makes the healing process much faster and enables you to get back to normal activities sooner.
---
Benefits of Active FX: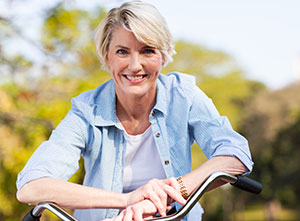 Dramatic Results in One Week!
Safe, natural, and effective
Quick 7-minute procedure
Noticeably improves skin tone, texture, and tightness
Reduce pore size, fine lines, and wrinkles
Tighten and sculpt cheeks, jowls, and neck skin
No cutting, no needles. No bruising!
Softens deeper frown lines
Eliminate unwanted pigmentation
Remove skin irregularities to promote better skin texture
Gold Standard for acne scarring resurfacing
*Individual results may vary depending on a number of factors.
---
Watch Our ActiveFX Video!

Specials
ActiveFX Introductory Specials!
---
Before and After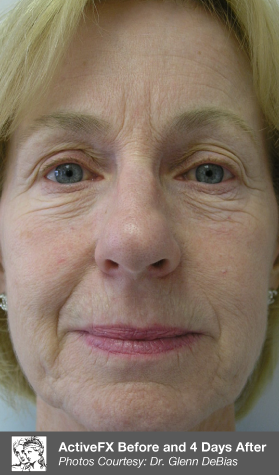 ---
Set up a free consultation at The Institute for Laser and Aesthetic Medicine and Dr. DeBias will work with you to determine the best approach to attaining the optimal results you are trying to achieve. One visit and you will be on your way to a more refreshed look!